Whistler

Whistler is famous for it's winter activities like skiing, snowboarding and nordic skiing but there are plenty of things to do all year round like biking, bear viewing, camping, fishing, ziplining anf golf. The village centre at the base of Whistler Blackcomb ski area is the centre of the community, here you will find pleanty of restaurants, bars, night spots and shopping boutiques.
From May 19th to Sep 10th, 2017.

Get ready to enjoy another spectacular season of free outdoor concerts in Whistler Olympic Plaza. From the sweet sounds of classical music to chilled out beats and local folk bands, Whistler Olympic Plaza is the place for free outdoor concerts this summer.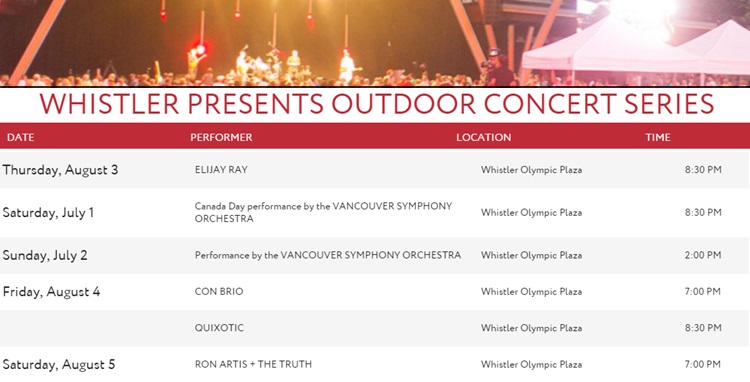 September 9th, 2017.

Every year since its inception in 2010, the event has been a recipient of Get Out There Magazine's Readers' Choice Award for Best Cycling Event in Western Canada!

October 14th, 2017.

The 50 mile (80km) course will consist of 4 loops of approximately 20km, with the 20km loop divided into approximately 13km and 7km legs for the 8-person relay. Odd legs (1, 3, 5, and 7) will run 13km and even (2, 4, 6, and 8) will run 7km. The 4-person relays will alternate 20km loops while the 2-person relays may alternate 20km loops or run 40km each.
The 50 mile total distance will be certified.


Special Offers
The Sutton Place Hotel One Bedroom from $170. Sleeps up to 4. Contact Vancouver Serviced Apartments....
full details...

Executive Airport Plaza Hotel Executive Airport Plaza is a 4 diamond rated hotel located in the centre of Richmond with over 300 rooms from deluxe Plaza to fully furnished apartment suites w...
full details...